It took three stages, but finally the 'king' of the GoreTex TransRockies Run came good. Max King and Ryan Bak (Team Bend) blasted through the 24 mile stage from Leadville to Camp Hale in 2h47m and in so doing moved into the overall lead of the GC.
Today's stage, arguably one of the toughest of the race - with 3000ft of vertical, provided yet another intense battle between the leading protagonists - with Jason Wolfe and Mike Smith (Team Run Flagstaff) running in second on the stage, some seven minutes adrift of the leaders. Wolfe and Smith seem to have the upper hand on the uphills and King/Bak have the faster legs on the descents, which has set up an interesting contest between these four.
Ashley and Cynthia Arnold (Trail Runner Magazine) kept a tight rein on the lead in the Women's Open division winning the stage in 3h44m fromAmy Golumbia and Rosemarie Gerspacher (Team Arcteryx).
In the Mixed 80+ division Jeff and Katie Caba continue to lead the race after a solid 3h31m run in today's stage.
It was a tough day for Team EverymanTri, with Paul Shippey dropping out of the stage at mile 14, leaving teammate Lori Lyons to run solo to the finish at Camp Hale in 6h03m. This effectively drops them from the race classification.
'This is a tough race to run with injury and sickness and after three days of pain and not feeling great, my body had the final say today. I may be able to soldier on tomorrow, but today was brutal for me and my teammate', said Shippey after the stage.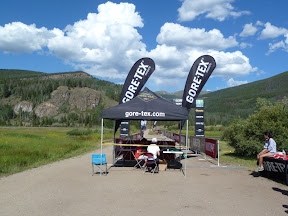 - Posted using BlogPress from my iPad
Location:Camp Hale, CO